ASP-12 semi-automatic shotgun (Section1 firearm)
Made in Armenia (former Soviet republic) ASP -12 shotguns combine the best of MOLOT's Vepr-12 (RPK machine gun receiver) and Izhmash's Saiga-12 (gas system) features, plus an eye-catching AKSU style rear sight, push-button safety and LRBSO (last round bolt stop open) mechanism. The original factory package includes: 1 (one) 8-round magazine. Optional accessories include: + Picatinny rail to fit AKSU-type rear sight, 10-R factory magazines and authentic Russian AKM canvas sling. Recommended red dot sights: KOBRA and PILAD. Factory barrel length is 68cm (27.5"), but we can shorten the barrel on order, cut the original 22x0.75 thread and install all sorts of flash hiders and muzzle brakes and chokes. Section 5 short-barrelled versions are also available from our norminated Sec5 dealers in Surrey and Hertfordshire. Sec5 live and deactivated ASP-12 shotguns must be paid by bank transfer (no credit card payments) directly to Sec5 dealer's account prior to any work done!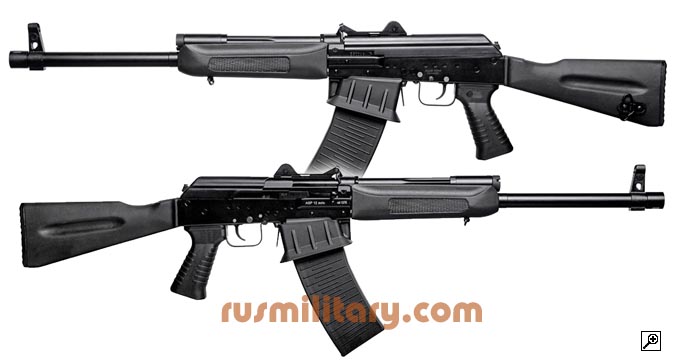 Calibre

12

Cartridge type, mm

12x70 / 12x76

Barrel length, cm/ inches (to be shortened to order)

68cm (27")

Minimum barrel length for UK, cm/ inches

61cm (24")

Weight, kg

4.0

Magazine capacity, rds

4/8/10

PRICE (factory package) + FREE 10-R magazine when deposit paid

£1,595-00

70% RESERVATION >

ETA - December'21 / £1,115

PRICE (Deactivated on order)

£1,745-00

Payment by bank transfer ONLY!
PRICE (Short-barrelled Sec5 - contact our nominated Sec5 dealer)

£1,645-00

Payment by bank transfer ONLY!

PLS NOTE: THIS PRODUCT REQUIRES FIREARMS LICENSE !

12G muzzle brakes
GK-03 muzzle brakes designed to fit all a factory-threaded AK-type shotguns (M22x0.75 external thread) - Vepr-12 / Saiga-12 / ASP-12 shotguns. CLICK to compare the barrel length of Saiga / Vepr with installed GK

| | | |
| --- | --- | --- |
| Price: £115-00 | | GK-03 / Appx $130 |

VEPR-12 (ASP-12) factory magazines
Manufactured by Molot (Viatskie Poliany) polymer 8-R& 10-R magwell magazines for Vepr-12 and ASP-12 shotguns

| | | |
| --- | --- | --- |
| Price: £87-00 | | 8-round / appx $98 |
| Price: £99-00 | | 10-round / appx $112 |

G-TECH butt stock assembly
Made in Germany G-TECH butt stock sets are specifically designed for AK type firearms (not for airsoft / air guns). Hard plastic reinfoced with steel insertions, G-TECH fits any AK stamped receiver (AKM / AK-74 / AK-103 / ASP-12). Prices include both - butt stocks and buffer tubes

| | | |
| --- | --- | --- |
| Price: £169-00 | | AKM / collapsible - folding |
| Price: £129-00 | | AK-12/15 type / collapsible |

AK47 recoil pads
Originally designed to suppress recoil of 40mm GP-25 grenade launcher, this recoil pad fits any factory-made fixed AK buttstock (AK-47 / 74 / Saiga rifles and shotguns)

| | | |
| --- | --- | --- |
| Price: £27-00 | | Black |

AK charging handle extention
This Russian-made alloy extention bolts onto the existing AK charging handle to give you an enhanced oversized handle to operate your AK easily. This will work on all Saiga rifles, shotguns and most AK

| | | |
| --- | --- | --- |
| Price: £24-00 | | |

Conditions of purchase in the UK (MAIL ORDER) Section 1 FAC. Please post photocopies of front page & Variations page (with 12 bore semi-auto shotgun on it), plus contact details of your nearest RFD. Purchase in person & viewings are strictly by appointment. Conditions of purchase in Europe: please send by post photocopies of your Dealers Firearms License in PDF (we CAN NOT deliver guns to private individuals abroad)

© Copyright RusMILITARY 1999-2021
Tel: 01344-750735 E-mail: RusMilitary