CyberGun AKM (AK-47) air rifles

The 4.5mm / .177 Chinese-made CYBERGUN AK-47 (AKM Type-56) assault rifle is based on the Russian-made Yunker-3 air rifle technology (trigger and air valve feeding mechanism are quite good copies). It is a semi-automatic NBB Co2 rifle with a moving bolt-carrier and recoil spring. Metal BBs (Ball Bullets) are fed directly from a detachable magazine. Some of its parts are genuine AKM Type-56 parts: the steel receiver (which can accomodate a real AK47 magazine), a wooden Type 56 furniture including buttstock, pistol grip & foregrips. It also has a solid steel barrel (not sleeve), which is pinned to a steel lower trunion. The power is appx 2.5 Joules - NO LICENCE REQUIRED ! Soviet AKM canvas sling and trigger pin are optional. AK47 trigger pin is ideal to plug the holes on each side of the CuberGun's receiver by cutting it in half. We can also supply Russian AKM laminated furniture and all sorts of tactical furniture - subject to availability. Pls contact us for options

| | |
| --- | --- |
| Calibre, mm | 4.5 (.177) |
| Est Muzzle velocity, fps | 380 / 450 |
| Weight, kg | 3.6 |
| Fire action | NBB |
| Magazine capacity, BBs | 18 |
| Energy, Joule | 2.5 / 4.2 |
| PRICE (standard factory) | £295-00 |
| IN STOCK > SALE £265 | |
| PRICE (Power upgrage 4J) | £315-00 |
| IN STOCK > SALE £285 | |
| AK47 mag with 5 inert rounds | |
| AK47 trigger pin / £9-95 | |
| Soviet AKM sling / £12-95 | |
We can now offer a power upgrade version with power of up to 4.2 Joules (appx 480 fps / 155 m/s). Our CyberGun AKs are also perfectly zeroed at our indoor zero range. (What power upgrade means: one of two existing air valves was re-machined to allow more air pressure into the barrel, which is only achievable by use of some special tools). EXLUSIVELY from RusMilitary !
MAGs & MODs

PRICE (All-steel PBS-1 replica with steel 14mm CW adaptor)

£105-00

IN STOCK >>

PRICE (Alloy DTK-4 Kochevnik replica with steel 14mm CW adaptor)

£102-00

IN STOCK >>
PRICE (.177 standard factory spare polymer magazine)

£42-00

IN STOCK >>

PRICE (177 power upgrage mag - appx 4.2 Joules / estimated 475 fps)

£59-00

IN STOCK >> currently available when purchased with AK47 bb rifle*
PRICE (After-market AKM ply-wood stock set + bakelite pistol grip to fit CyberGun AK)

£275-00

IN STOCK >>

* Custom-built / converted power upgrade polymer Co2 magazines have to be fitted and tested for each individual rifle. We recommend that customers buy extra magazines at the time when ordering a rifle, so that we can fit everything properly in our workshop. Magazines with increased power are also available for those customers who purchased AK47 rifle from us earlier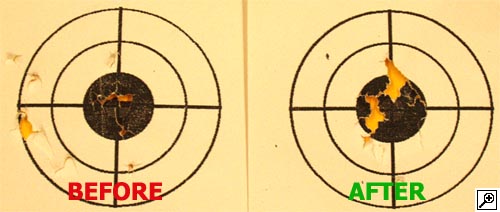 >
CLICK
to view the latest test results: Factory Mag vs. PowerUpgrade Mag (!)



LEARN how to fit magazine properly!
Practice ROCK-N-LOCK technic with just a magazine body first (Pic1), making sure the mag "neck" is lined up with the receiver (Pic2). When fitting a fully assemble magazine (Pic3), it will feel harder to pull it backwards to lock in place because of the resistance of the rubberised chamber - wait for a "click" of the rear locking lug. Make sure a BB feeding hole is lined up with the barrel (rubberised chamber). If the trigger is not working, it means the magazine is not fitted properly. If a rubberised chamber prevents the magazine from being fitted correctly with a "click", push alluminium ring (Pic3) slightly forward with a screw driver and try again (CLICK on images below to enlarge). In order to reduce air leak while punching an airbulb, use a vice to increase the leverage and rotate a magazine itself instead of a tightening bolt.
CLICK
to view image.
CLICK
here to fix misfire when magazine is properly locked inside the magwell
WHAT OUR CUSTOMERS SAY
Also I thought I'd share with you what I've don't to the AK. I've weathered it and rusted it up. I also stripped and refinished the wood parts. I think it looks quite good now. The next step is to adapt the polish magazine to be able to be used with the bb magazine. Anyway here is a picture of what the rifle looks like now, ready to go up on the wall. Regards. Joe

Hello Oleg. Please see below and feel free to use on your site! Very Happy. I just wanted to say thanks for the excellent job on preparing my AKS 74. It looks awesome and is a real joy to shoot, I am going to get years of pleasure from it. The quality is second to none and the look and feel is essentially the real thing. I have come across AK's on a few occasions during service and can assure anyone of the fact that really this is close to the real thing as your going to get. The Cybergun AKM I also took delivery of is also a great bit of Kit. The power upgrade certainly does the business and the rifle knocks down targets effectively with a good punch. You can really tell the difference it changes the rifle from a plinker to a respectfully useful shooter, the first two mags knock down the metal targets on my magnetic range with no problem. The piece is no TX200 but is great fun to shoot and as a replica (which is really why your buying this) gives the added pleasure of also having some satisfying shooting. It is also surprisingly accurate! I would advise anyone buying one of these to make sure they read your tips on mag insertion as I experienced trouble exactly as you describe with the trigger action. Once I got the hang of things and the mag had been used a few times then no problems at all. This is the second time I have taken delivery of pieces from you Oleg and I know it will not be the last. All the Best /(E-mail from Howard / 21.07.19)
Excellent service from start to finish. She is so smooth all the power is transferred directly to the projectile. Instantaneous at 45 feet. Thank you (SMS from Norman in Manchester / 25.04.19)


Conditions of purchase in the UK (MAIL ORDER): NO LISENCE REQUIRED ! but in accordance with Violent Crime Reduction Act (Section 33: Age limits for purchase etc of air weapons), from October 2007 customers are required to prove their age when purchasing this product in person (18 years of age or over!). The transaction of an airgun is to be conducted face-to-face or through your nearest airgun or firearms shop/ retailor. A document confirming your age will be required on collection of an airgun. The above law does not apply to customers overseas. To find your nearest Air Gun retailor search www.yell.com or come and collect by appointment. Mail order sale of airgun silencers, replacement barrels and BB ammunition to over 18 ONLY! You MUST confirm your age by e-mail or in writing
EU / Europe airguns can be shipped safely to any EU member country for just £30. All parcels are insured and trackable via internet
Non-EU countries (USA / Canada / Norway / Switzerland etc) We can NOT ship AIR GUNS abroad

© Copyright RusMILITARY 1999-2023
Tel: 01344 752753 E-mail: RusMilitary