7.62x54R SVD Dragunov sniping rifle (TIGR 04) & SVDS Paratrooper (TIGR 02)

Brand new Tigr 04 sniping rifle is a civilian version of the legendary SVD Dragunov sniping rifle, manufactured by IZHMASH factory. The SVD (Tigr 04) features black plastic furniture inc fixed stock and hand-guards. In accordance with the UK law requirements, this rifle was manufactured as a straight pull / manual operation (single shot) rifle with magazine capacity of 5 or 10 rounds. Our package includes: one 10-round magazine, canvas sling, cleaning accessories kit, cleaning rod and manuals in English. The SVDS Para version comes with folding buttstock & barrel length of 530mm. PAY ATTENTION: our SVD rifles have military specifications: 1200m rear leaf-sight / 12cm-long military flash suppresor / 620mm-long barrel. The SVDS has 530mm barrel length & 1200 rear leaf-shaped sight. The original SVD recoil pads, bipods & 8x42 scopes are optional. The original SVD-dedicated TGP-V sound suppressors are available in limited quantities - see details below
< Click to view SVDS in action.

© RusMilitary
| | |
| --- | --- |
| Calibre, mm | 7.62 |
| Muzzle velocity, m/s | 810 |
| Catridge type | 7.62x54R |
| Barrel length , mm | 620 |
| Overall length, mm | 1,220 |
| Weight, kg | 3.8 |
| Magazine capacity, rds | 5 or 10 |
| Sighting range (open sight), m | 1200 |
| PRICE: SVD - Modern Russian / standard mil-spec barrel / black polymer furniture | £1,845-00 |
| IN STOCK >> | |
| PRICE: SVD - Modern Russian / standard mil-spec barrel / Soviet laminated ply-wood furniture | £2,030-00 |
| IN STOCK >> | |
| PRICE: SVDS Paratrooper - Para's version of SVD (straight pull Tigr-02)/ 530mm barrel length / folding buttstock/ 1200m leaf-shaped rear sight. CLICK to view grouping within 4cm/1.5" on A4 target / distance - 100 yards | £00-00 |
| SOLD OUT >> | |

PLS NOTE: THIS PRODUCT REQUIRES FIREARMS LICENSE !

SVD wooden buttstock & handguards
Authentic Soviet / Russian (unissued - as NEW) Izhmash-made plywood butt stocks with black cheek pad and handguards come from Russian Army stores

| | | |
| --- | --- | --- |
| Price: £285-00 | | Teak Brown-Red plywood ($355) |

SVD recoil pad
Autnentic Russian pads originally designed to fit SVD wooden buttstock, they also fit SVDS folding butt. The £34-pound version was widened from inside by cutting & filing to fit a modern SVD fixed polymer stock.. A MUST-HAVE.. if you ever shot 7.62x54R

| | | |
| --- | --- | --- |
| Price: £29-00 | | SVD wood / SVDS in Black |
| Price: £29-00 | | SVD wood / SVDS in Brown |
| Price: £34-00 | | SVD fixed polymer butt in Black |

S-101 Telescopic Bipod (for SVD/Tigr)
Made in Moscow, this heavy duty bipod with a strong steel body was specifically designed for Dragunov-type rifles (SVD, SVDS, Tigr) & now used by many Special Forces troops in Russia. The bipod comes with quick-release clamps mountable onto the receiver via the grooves on each side. The height of bipod can be adjusted via 4-stage telescopic pods from 17cm (7") to 24cm (9.5")

| | | |
| --- | --- | --- |
| Price: £179-00 | | <SOLD OUT> |

SVD 4-mag pouch
Authentic Soviet SVD magazine belt canvas pouch for 4 mags / unissued (as new) / direct supply from old Soviet Army ZIP stores. Leather trim - dark brown

| | | |
| --- | --- | --- |
| Price: £32-00 | | |
WHAT OUR CUSTOMERS SAY
Hi Oleg, Just a quick email to say I went to Warcop with the SVD and AK-103 on Saturday. You're not gonna believe this, but the AK with Israeli surplus (tracer) was *consistently* hitting targets at 1000yds.! There were shooters there coming over stunned at what the AK was managing! 5 of us were using AKs and they were hitting thousand yard targets repeatedly. The SVD - I took mine and another chap took his - I only had 20 tracer rounds but they hit 1000 yard targets no problem - the other chap - was consistently hitting targets at 1300 with Hungarian tracer rounds with his! This blows the usual rubbish talked about how the SVD is "only good out to 800/900" right out of the water! A real eye opener of a day - especially with the little old AK going out to 1000! We did try for 1300 targets, but there just wasnt enough steam in the rounds to get them there and they fell short. All the best, James / E-mail from James 20.10.08
Dear Oleg ! well im the man who got the last SVD that was used for display in your store, i am extremely happy with the rifle, it is putting five rounds into 2.5-3cm at 100 meters with Seller + Bellot 180gr FMJ's. Thanks for getting it over to Hollow Farm Shooting Grounds in Northern Ireland so quickly too! Anyway, best regards always, Mark K. / e-mail / 19.02.08

After struggling like mad to reload for the SVD over the past 12 months with numerous issues, I have changed my load for the SVD and tested it today and got some excellent results (also fixed that problem with the miss-fires!): Case: Lapua 7.62x53R (as you know, the Finns round down, Russia round up), I have also used PPU / Prvi cases and they also seem to work well Powder: 48.0g Vihtavouri N140 Primer: Magtech Lg. Rifle Bullet head (important): Lapua Scenar 155.0gr, FMJ HPBT, .308" Crimp: Yes - moderate-to-heavy crimp Overall length (C.O.A.L): 3.00" Something I have learned (at a lot of expense!):
AVOID Sierra (Palma Match) bullet heads - they do not crimp well as they are quite soft compared to Lapua. If you crimp Sierras, as there is no cannelure, the bullet head is deformed after a crimp (hourglassed), resulting in the bullet head being loose and it "turns" in the case (loss of consistent pressure and accuracy). The other good thing with the Lapua Scenars is that they are longer than the Sierra's, so you can seat the bullet out a little closer to the rifling (some say this improves accuracy)

(IMPORTANT) BULLET HEADS DISLODGING:
The chambering of the 7.62x54R in the SVD is quite violent if you don't "help" the cocking slide and let it do it with its own inertia. THIS FORCES THE HEADS OUT OF NON-CRIMPED ROUNDS, RESULTING IN "SQUIB" SHOTS: No bang, no bullet head leaves the barrel...
For me, I had HUGE problems where the primer goes, but because the bullet head is not seated in the round (after it is dislodged during chambering), the power of the primer is enough to push the bullet head up the barrel about 5-7". You then have to adopt a miss-fire procedure, then "tap" the bullet head out with a rod towards the chamber end. Not nice! Waste of powder (N140 isn't cheap), bullet (HP) head is ruined and valuable shooting time is wasted. WHY .308"? PPU / Prvi heads are .310" 182.0gr on their factory ammo, which shoots ok in the Dragunov to be honest and is consistent, but it it is not as comfortable to shoot (see your posted article with Pete Moore testing the SVD with PPU). A .308" head seems more accurate and even at 48.0gr., the rifle is still nice to shoot, whereas the 182.0gr. factory rounds are quite meaty with a heavier recoil. Why murder your shoulder and stress the SVD?
LENGTH:
The above load works well. If you create a "dummy" round with no primer and charge initially, you will find that you can chamber the dummy round 3 times (or more) without helping the ckicking slide back, before the head begins to slip forward slightly. But we obviously need only one chambering when a shot is to be fired, so that is good, as the head does not come off as it did with the weaker Sierra heads. Hope this helps yourself and others Oleg, obviously anyone using the above recipe does so at their own risk. Note that 48.0 gr. is a fairly high load (7N14 Russian ammo is 47.5gr.), the Lee loading guides says to NEVER EXCEED 48.7gr. of powder with the bullet head in use here. If unsure, its always best to start lower than 48.0gr. and work up the powder, always looking for pressure signs.

All the best...
E-mail from James (also with thanks to K.Conde)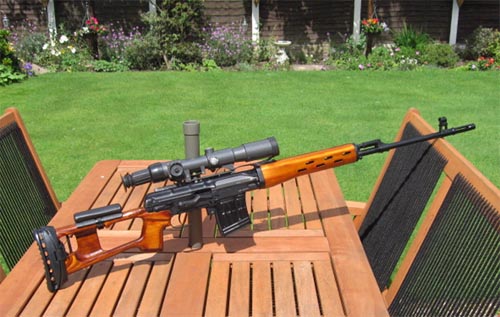 Conditions of purchase in the UK (MAIL ORDER): Section 1 FAC. Please post photocopies of front page & Variations page (with .308 / 7.62mm on it), plus contact details of your nearest RFD. Purchase in person & viewings are strictly by appointment. Conditions of purchase in Europe: please send by post photocopies of your Dealers Firearms License, End User
Certificate
&
EC3
in PDF (
EC3
in Word) Form
(we CAN NOT deliver guns to private individuals)
. US dealers have to supply an approved copy of ATF Form 6 - Part 1 (5330.3A)
(we CAN NOT deliver guns to private individuals)
. Please note all our rifles are SINGLE-SHOT / NOT semi-automatic and all the shotguns ARE semi-automatic with fixed buttstock & minimum barrel length of 24" (61cm)

© Copyright RusMILITARY 1999-2015
Tel: 01344-750735 E-mail: fsu@sky.com