Buy from us with confidence ! because we polish the chamber of each AKM to provide a smoooth ejection, test-shoot each gun and supply a target with good grouping on it for each AKM tested !

7.62mm AKM assault rifle (straight pull WS-1.63)

Brand new Romanian WS-1.63 rifles are civilian versions of Kalashnikov AKM assault rifle (AKM - Avtomat Kalashnikova Modernizirovany). The original version features light coloured birch laminated handguards & buttstock, polymer pistol grip and authentic AKM muzzle brake. We also offer a 'Soviet' upgrade (see above) which includes AKM / AK74 laminated buttstock, handguards and bakelite (or laminated) pistol grip to give it an authentic look of Soviet AKM rifle.. The third option is the ALL-BLACK AKM with original Izhmash-made black polymer furniture. In accordance with the UK law requirements, this rifle was manufactured as a straight-pull (single-shot) rifle. Our package includes: one magazine, cleaning accessories kit, cleaning rod and complimentory canvas or nylon sling. Recommended optional accessories include authentic AKM canvas
dropcase
,
POSP
telescopic sights (AKM comes with siderail already installed),
BP-02
Picatinny scope mounts (to allow installation of your own scope),
3-mag
tactical pouchs, spare
magazines
(inc steel 10-r, 20-r, 30-r, 40-r & 75-r drum),
AK/GP
recoil pads and authentic military
PBS-1
silencers.
ALL AKMS rifles can operate with normal AK magazines
(Saiga magazines will NOT fit !). Best (tighter) fit are AK47 steel and bakelite orange magazines. Also note - all our AKMs had their chambers polished to provide a smoother ejection

Calibre, mm

7.62 x 39

Muzzle velocity (m/s) / Twist

715 ( 10")

Sighting range, m

1,000

Magazine capacity, rds

10/20/30/40/75

Weight, kg (w/o loaded mag)

3.3

Length overall / barrel, mm

900 / 425

PRICE Soviet version inc AKM muzzle brake (compemsator), laminated buttstock, hanguards & pistol grip. Plus 1 (30-r) steel OR 1 (30-r) stell or bakelite magazine (See original image above & below)

£839-00

SOLD OUT >

Grade 1 used, but good quality furniture
| | |
| --- | --- |
| PRICE All-black version with original Izhmash polymer furniture inc buttstock, hanguards & pistol grip. Plus 1 steel (30-r) OR 1 (10-r) magazine. (See original image 1 & 2 and below) | £899-00 |
| SOLD OUT > | |
| | |
| --- | --- |
| PRICE Romanian factory version inc AKM muzzle brake (compensator), light birch laminated buttstock & hanguards and polymer pistol grip. Plus 1 AK47 steel 10-r or 30-r magazine. Also included: green nylon sling and cleaning kit | £749-00 |
| SOLD OUT > | |
| | |
| --- | --- |
| PRICE All-black or TAN tactical polymer furniture from TDI (CAA) plus 1 AK47 steel (30-r) OR 1 (10-r) magazine | £995-00 |
| SOLD OUT > | |
| | |
| --- | --- |
| PRICE All-black tactical polymer furniture - a mix of Magpul and FAB Defence including: Zhukov-S folding collapsible butt stock, HGs, pistol grip and polymer magazine. Plus 1 extra AK47 steel (30-r) OR 1 (10-r) magazine (DTK Saiga MK muzzle brake is NOT included) - see images below | £1075-00 |
| SOLD OUT > | |
| | |
| --- | --- |
| AK47 / AKM 10-r steel magazine / NEW / £22 | |
| AK47 / AKM 20-r steel magazine / NEW / £26 | |
| AK47 / AKM 30-r steel magazine / NEW / £22-95 | |
| AK47 / AKM 30-r bakelite magazine (Izhmash) / £26 | |
| 24x1.5 SaigaMK muzzle brake + 14mm LH adaptor / £77 | |
< Click to view AKMS with PBS-1 suppressor

© RusMilitary (04.07.14)
WHAT OUR CUSTOMERS SAY
I received the AKM off R.T. last night. I am more than extremely pleased with it. If you could see the grin on my face, you would know what I mean....!!! I look forward to doing business with you in the future. Again Oleg, many, many thanks. Stay safe and best wishes. Mark (E-mail from Wales, May'14)
Morning Oleg, thank you for getting the AKM out to me on Monday. I got down to the range yesterday and have to say how very impressed I am with it, it shot superbly straight from the box with no sight adjustment whatoever!... Also it was a nice surprise to have the Izhmash bakelite mag with it. I have attached a pic of a target from yesterday, which shows 70 rounds at 50m, without touching the sights at all.Once again im very impressed and look forward to placing my next order, cheers, Rich :)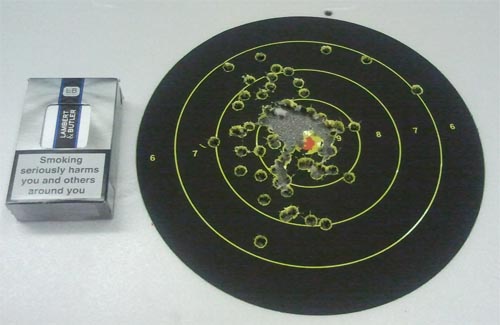 PLS NOTE: THIS PRODUCT REQUIRES FIREARMS LICENSE !

Condition of purchase in the UK (MAIL ORDER): Section 1 FAC. Please post photocopies of front page & Variations page (with .308 / 7.62mm on it), plus contact details of your nearest RFD. Purchase in person & viewings are strictly by appointment. Conditions of purchase in Europe: please send by post photocopies of your Dealers Firearms License,
End User Certificate
&
EC3
in PDF (
EC3
in Word) Form (we CAN NOT deliver guns to private individuals). US dealers have to supply an approved copy of
ATF.Form.6-Part1
(we CAN NOT deliver guns to private individuals)
. Please note all our rifles are SINGLE-SHOT / NOT semi-automatic and all the shotguns ARE semi-automatic with fixed buttstock & minimum barrel length of 24" (61cm)

© Copyright RusMILITARY 1999-2018
Tel: 01344-750735 E-mail: fsu@sky.com