7.62mm AKMS assault rifle (straight pull WS-1.64)

Brand new Romanian-made WS-1.64 rifles with under-folding buttstock are civilian versions of Kalashnikov AKMS assault rifle. The original version features light coloured birch laminated handguards, AK polymer pistol grip and extended flash hider. We also offer a ''Soviet' upgrade (see above) which includes AKM laminated pistol grip and handguard as well as a shorter AKM flash hider to give it an authentic look of Soviet AKMS rifle.. In accordance with the UK law requirements, this rifle was manufactured as a straight-pull (single-shot) rifle. Our package includes: one 30-round magazine, cleaning accessories kit, cleaning rod and complimantory AKM canvas sling. Recommended optional accessories include spare magazines (inc steel 10-r, 20-r, 30-r, 40-r & 75-r drum), AK/GP recoil pads and de-commissioned PBS-1 Compact silencer. ALL AKMS rifles can operate with normal AK magazines (Saiga magazines will NOT fit !). Best (tighter) fit are AK47 steel and bakelite orange magazines
| | |
| --- | --- |
| Siderail D.I.Y. kit (including lower slide-on mount) | £49-00 |
| (FREE installation when purchased on premises) | |
Calibre, mm

7.62 x 39

Muzzle velocity (m/s) / Twist

715 ( 10")

Sighting range, m

1,000

Magazine capacity, rds

10/30/40/75

Weight, kg (w/o loaded mag)

3.3

Length (folded stock) / barrel, mm

890 (640) / 425

PRICE Under-folding buttstock, Romanian factory-made polymer pistol grip, light-birch HGs & long flash hider

£679-00

IN STOCK >>

PRICE Under-folding buttstock, Soviet AKM laminated pistol grip & HGs, flash hider and 30-r bakelite mag (Soviet upgrade)

£759-00

IN STOCK >>

IN STOCK >> as above + PBS-1 Compact sound moderator / £1095

PRICE A one-off build: under-folding buttstock, Polish AKM light birch pistol grip & HGs, flash hider and 30-r steel mag / £749

PRICE ALL BLACK: under-folding stock, AK polymer HGs & Saiga-12 pistol grip, AKM flash hider and 30-r steel mag / £765

WHAT OUR CUSTOMERS SAY. . .
Hi Oleg, just want to say thank you for sending me the AK under folder, VERY pleased with it, shot it straight out of the box 15 rounds of surplus @100m at a 5" target, 12 on the target and 3 just outside , with iron sights, 3 of us in our club have got your rifles, we're having great fun, thanks again P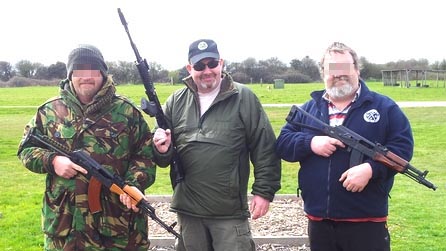 Morning Oleg, thank you for getting the AKM out to me on Monday. I got down to the range yesterday and have to say how very impressed I am with it, it shot superbly straight from the box with no sight adjustment whatoever!... Also it was a nice surprise to have the Izhmash bakelite mag with it. I have attached a pic of a target from yesterday, which shows 70 rounds at 50m, without touching the sights at all.Once again im very impressed and look forward to placing my next order, cheers, Rich :)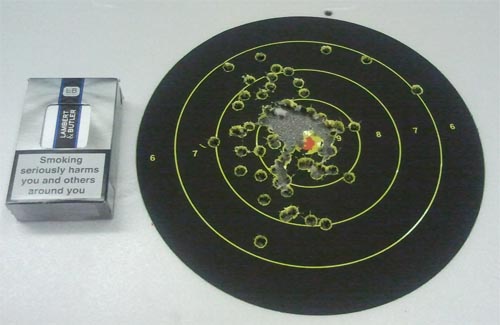 PLS NOTE: THIS PRODUCT REQUIRES FIREARMS LICENSE !

Condition
of purchase in the UK (MAIL ORDER): Section 1 FAC. Please post photocopies of front page & Variations page (with .308 / 7.62mm on it), plus contact details of your nearest RFD. Purchase in person & viewings are strictly by appointment. Conditions of purchase in Europe: please send by post photocopies of your Dealers Firearms License, End User Certificate & EC3 in PDF (EC3 in Word) Form

(we CAN NOT deliver guns to private individuals)

. USA-based dealers have to supply an approved copy of ATF Form 6 - Part 1 (5330.3A)

(we CAN NOT deliver guns to private individuals)

. Please note all our rifles are SINGLE-SHOT / NOT semi-automatic and all the shotguns ARE semi-automatic with fixed buttstock & minimum barrel length of 24" (61cm). The UK trade customers are welcome !

© Copyright FSU Connections Ltd 1999-2013