Buy from us with confidence ! because we polish the chamber of each AKMS to provide a smoooth ejection and test-shoot each gun!

7.62mm AKMS assault rifle (straight pull WS-1.64)

Brand new Romanian-made WS-1.64 rifles with under-folding buttstock are civilian versions of Kalashnikov AKMS assault rifle. The original version features light coloured birch laminated handguards and AK polymer pistol grip. We also offer a ''Soviet' upgrade (see above) which includes AKM laminated handguards and bakelite pistol to give it an authentic look of Soviet AKMS rifle.. In accordance with the UK law requirements, this rifle was manufactured as a straight-pull (single-shot) rifle. Our package includes: one 30-round magazine (orange bakelite or steel), cleaning accessories kit, cleaning rod and nylon sling. Recommended optional accessories include rear sight
Picatinny
rail, authentic AKM canvas
sling
,
dropcase
, spare
magazines
( inc steel 10-r, 20-r, 30-r, 40-r & 75-r drum),
AK/GP
recoil pads and authentic military
PBS-1
suppressors.
ALL AKMS rifles can operate with normal AK magazines
(Saiga magazines will NOT fit!). Best (tighter) fit are AK47 steel and bakelite orange magazines. Also note - all our AKMs had their chambers polished to provide a smoother extraction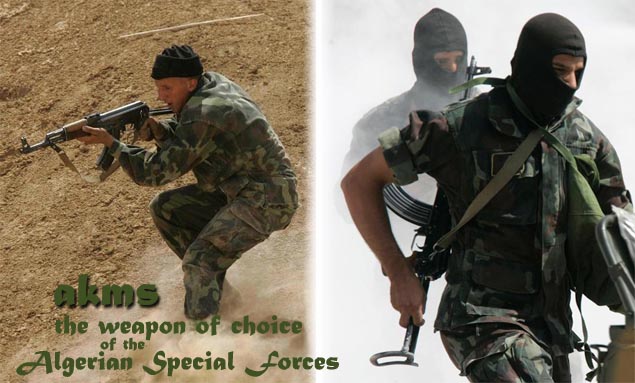 Calibre, mm

7.62 x 39

Muzzle velocity (m/s) / Twist

715 ( 10")

Sighting range, m

1,000

Magazine capacity, rds

10/30/40/75

Weight, kg (w/o loaded mag)

3.3

Length (folded stock) / barrel, mm

890 (640) / 425

PRICE Romanian factory version. AKM thread cover, under-folding buttstock, factory polymer pistol grip and light-birch HGs + 1 (ONE) 10-r steel magazine and cleaning kit

£1,045-00

IN STOCK >>

PRICE Under-folding buttstock, AKM thread cover or muzzle brake (compensator), AKM laminated HGs, brown bakelite grip + 1 (ONE) 10-r steel magazine and cleaning kit (Soviet upgrade)

£1,115-00

IN STOCK >>

PRICE ALL BLACK under-folding butt stock, AKM thread cover or muzzle brake (compensator), IZZY AK polymer HGs & pistol grip, 1 (ONE) 10-r steel magazine and cleaning kit

£1,080-00

IN STOCK >>

PRICE ALL BLACK, AKM thread cover or compensator, tactical polymer furniture from FAB Defence including HGs and pistol grip. Plus 1 AK47 steel 10-r magazine and cleaning kit (optional AK magwell and 7.62mm "Ghost" flash hider can also be installed)

£1,129-00

IN STOCK >>

7.62x39 AKM (AK-47) magazines
Available as an option for the buyers of Sec1 AK rifles only, from this web page. UNISSUED "old stock" condition or slightly used (Grade1) 30-round AKM / AK47 Bulgarian or Serbian steel and Soviet bakelite magazines

| | | |
| --- | --- | --- |
| Price: £27-00 | | Steel / 30-R |
| Price: £78-00 | | AKM Bakelite / 30-R |

AK rear sight base Picatinny rail
This alloy 20mm Picatinny rail is ideal to replace AK (AKMS) rear sight plate in order to install a red dot sight. It is a common replacement accessory for AKMS rifles, which can not be fitted with scope side rails (siderail would normally prevent its underfolding butt stock from folding). Optional rear sight removal tool is also available

| | | |
| --- | --- | --- |
| Price: £22-00 | | AK / AKMS |
WHAT OUR CUSTOMERS SAY
Hello, I hope that the Photo's I have sent you show how overjoyed I am to have two of your best AKs. As you can see when I am on my way to the Range, I like to keep a low profile and blend into the crowd. People even give up their seats for me on the Bus. These days you can never be too careful about drawing attention. I have found that my Violin cases fit the AKs like a glove and they never get a second glance. At the Range they always draw a gasp from fellow shooters, when I open them and reveal the contents. "The AKs look wicked" is a frequent comment "No...they look Evil" is always my reply. I smile...they move away. The fact that both of the AKs shoot remarkably well is a testament to your careful preparation and perfect setting up. They came to me already sighted in and I was able to get excellent shot groups straight out of the case. Your service is outstanding and your Customer Care is 24/7. I shall return as often as I can and I give you an Infinite Star rating. Thank you for bringing Joy to my Gloom. You are a truly wonderful person. Keep doing it. Best regards Covert AK

CLICK to discover what's in that "dropcase"
Hi, I absolutely love my gun she is fab to shoot and looks awesome very very happy with it :-) Thank you for the gun and everything and thanks for shipping it to get here friday.. Amy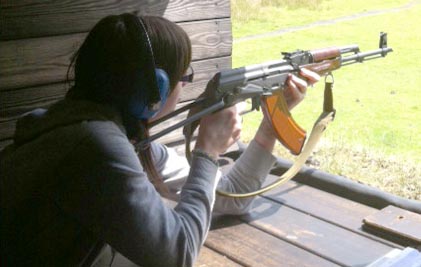 Hi, just want to say thank you for sending me the AK under folder, VERY pleased with it, shot it straight out of the box 15 rounds of surplus @100m at a 5" target, 12 on the target and 3 just outside , with iron sights, 3 of us in our club have got your rifles, we're having great fun, thanks again P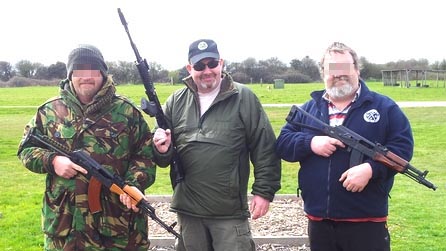 Morning, thank you for getting the AKM out to me on Monday. I got down to the range yesterday and have to say how very impressed I am with it, it shot superbly straight from the box with no sight adjustment whatoever!... Also it was a nice surprise to have the Izhmash bakelite mag with it. I have attached a pic of a target from yesterday, which shows 70 rounds at 50m, without touching the sights at all.Once again im very impressed and look forward to placing my next order, cheers, Rich :)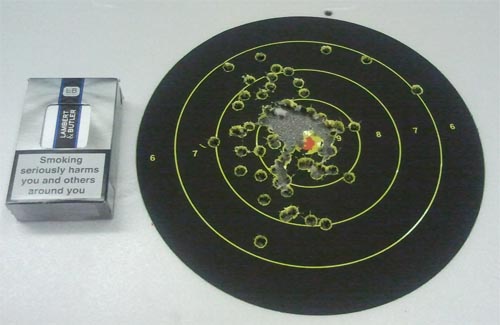 PLS NOTE: THIS PRODUCT REQUIRES FIREARMS LICENSE !

Condition of purchase in the UK (MAIL ORDER)
Section 1 FAC. Please post photocopies of front page & Variations page (with
7.62x39
or
7.62mm
or
.308/7.62mm
on it), plus contact details of your nearest RFD. Purchase in person & viewings are strictly by appointment. Please note all our centre-fire rifles are SINGLE-SHOT / NOT semi-automatic. If we are not completely satisfied with your ID credentials as a UK-registered FAC holder, you may be asked to proof your ID via
Code10
verification system. Please note we also sell to trade - factory AK versions ONLY as most of the original Soviet parts and custom parts are hard to find and import

© Copyright RusMILITARY 1999-2022
Tel: 01344-752 753 E-mail: RusMilitary