______________________________________________________________________________
Gun Mart/ February 2004

The Black Russian

by Pat Farey

The all black SARO Expeditionary Machete has a similar blade shape to the old Saratov machete, which was siad to be standard issue to the elite 'Spetznaz' units of the former Soviet Union's army. However, the SARO machete is slimmer in construction and lacks the Spetznaz model's separate cross guard, polymer handle and 'survival kit' packed in the hollow butt cap. Instead the SARO has a one-piece full tang construction - making it extremely strong - with a shaped cross guard and a flat handle which can have a wooden grip or a black cord wrap (the test knife had the latter). The machete is made of blackened carbon steel 65G with a Rockwell hradness factor of 54-56 HRC. This steel is also used to build the leaf spring suspension on Soviet trucks - so we can assume that it's fairly durable... The test knife was supplied with a sharp edge on the spatula shaped blade, and it should be relatively easy to keep that way. The first inch or so of the edge has a deep serration just above the guard which has a drilled hole for a lanyard or some other use (there's a more normally positioned lanyard hole at the knife's butt). The spine side of the guard has a coarsely milled section, presumably to rest the thumb when making finer cuts. In fromt of this is a forward facing cut-out with no bevel followed closely by another 'choil' like cut out - I confess that I cannot guess what they are for, although the former could be used like a Spanish notch or as a blade catcher but I very much doubt it...can anybody enlighten me ? The rest of the spine is taken up by a very coarse but very effective wood saw with a double row of anti-clogging teeth. Where the 'spatula'blade meets the spine, there's another choil, this time facing back along the knife and with a single bevel making it quite sharp (maybe for cutting through canvas, bark or leather like a guthook ?). Both sides of the blade have a very narrow fuller, and the right hand side is market with a calibrated row of dots from 0 to 16cm. The sheath is made with reinforced Kodra 1000, with a two inch belt loop, press stud safety fastening and a 5" x 1.5" outer closable pocket to carry a sharpening stone. The cord handle is narrow but quite easy to grip woth the haft flaring out as it reached the pommel. The shape of this tool gives it a multiple use blade with two cutting edges (narrow section), chopping edge (wider section) and a sawing edge (on the spine). In addition the sharpened end of the 'spatula' can be used for grind/cutting and digging. All in all, a very handy tool for use in and around camp.

COMBAT & SURVIVAL / October 2003

NV-01 survival knife

From the Kalashnikov Factory

by Bob Morrison

When a certain Russian former NCO of our acquaintance starts a phone conversation along the lines of "Hello , Bob, I'm just about to put a little something in the post to you that I think you may like ", I know for sure that a courier will turn up next day with a plain brown box containing some intriguing weapon or piece of kit. This time, however, the box was smaller than usual, but the contents were just as interesting as ever. The latest goody was no less than a survival knife fresh from the Izhmash factory, home of the AK range of assault rifles

In the past when Q has covered the uniforms of Special Forces and paratroopers from the Warsaw pact armies and their independent successors, for his Kit & Camo features, he has often passed comment on a knife pocket on the right upper leg of the trousers. Unlike most NATO soldiers, who are not officially issued with a combat knife and have to make do with their bayonet for hand-to hand fighting , many Soviet soldiers would not consider deploying operationally without a last-stand weapon on their right thigh.

This knife follows that tradition, but the designers have bulked the sheath up to offer survival accessories such as saw blades and compass, as well as making use of the otherwise dead space inside the knife handle to pack in smaller items that could come in useful if stuck in the wilds or trapped deep behind enemy lines. Because the sheath is considerably thicker than a normal combat knife, and the compass projects quite considerably from its front face, it does not fir the leg pocket quite as well as the issue knife, but if you can put up with only one of the two press studs on the cover flap being fastened, it can still be carried on the leg. However, the manufacturer has designed in two alternative nylon strap fittings to allow it to be hung from the belt or webbing, so this is not a major problem, and it must be borne in mind that many users will not be issued with trousers which have knife pockets anyway.

The knife itself has a six-inch (150mm) spearpoint blade with a gently curved edge, fashioned from 1/8th inch (3.2mm) thick hardened shell. The handle is cast from an alloy, as is the screwed cap which has both a nylon cord safety lanyard and a sealing O-ring as standard. Both blade and handle are blackened for tactical use, though this finish will wear off in places through prolonged wear. This grip section of the handle is fifty percent knurled in alternating bands, to prevent slippage when wet, and there are also six spiral ridges for extreme grip. The edge of the cap is also knurled, which is a necessity if trying to unscrew it with cold or wet hands. Between handle and blade there is a substantial cross-guard which is shaped to parry an opponent's blade striking down the back of your blade in the direction of the vulnerable thumb and wrist This may be a survival tool, but the designers have not lost sight of its primary use as a defensive weapon in a close quarters combat situation.

Inside the hollow handle of the knife, stored against a compressed spring which pops it out when the cap is removed, is a four inch long by 3/4 inch diameter (100mm x 20 dia) cylindrical plastic capsule with caps at each end. Although the O-ring seal makes the hollow compartment waterproof, the capsule caps themselves are made to interference fit tolerance to make it waterproof also. To remove the caps you will probably have to use the knife blade tip, but be careful as it is bloody sharp. Inside the capsule, which is split into two sections you will find various small survival accessories. In the smaller end there is a bobbin carrying several metres of both nylon fishing line and cotton thread. There is a fish hook and lead shot weight already attached to the line for instant use, which makes sense as your hands may well be too cold to tie a hook in a desperate survival situation. As for the bobbin it self, it has a little hole drilled through the middle to allow it to be used as a float; rather neat. Inside the cap for this end of the capsule you will find a little wrap of waxed paper holding a couple of spare fish hooks and split shot lead weights.

The larger capsule compartment contains a bigger waxed paper wrap, inside which you will find three windproof matches and a little sandpaper striker block, both of which are sealed in bubble-pack plastic, a large sewing needle, a large fish hook, a spring pin and an awl. The last item can be inserted into the blade receptacle of the sheath (more below)for maximum punching power. One use for the awl would be to pierce cloth, leather,hide or even bark prior to sewing or stitching together. As the waxed paper takes up a lot of space, though it will stop any jangling of contents, I am tempted to discard it and replace it with water purification tablets instead. If captured, and you have the time and opportunity , the survival capsule could be hidden in the rectum to ensure you have basic survival items for an escape and evasion attempt.

Turning to the sheath now, which is the bulkiest part of the assembly, this consists of three sections which are held back to back with a hinge pivot at the bottom. The main section is a moulded high impact plastic sheath for the knife, which has a sharpening stone set into the outside face and a compass in a screed cap. if the knife is to be carried in a more conventional or sheath issue, the spirit compass in its cap can be substituted for the lanyard cap on the knife handle. The secondary section, also very heavy duty plastic, carries a second survival blade, and a saw with two tooth grades to cope with either metal or wood. Both primary and secondary sheath sections have steel inserts cast into them, which form a wirecutter at the hinge end. When locked together, these sections can be opened by depressing a lock button underneath where the cross-guard would sit. The extra chromium steel blades carried inside the sheath can be individually inserted into the open hinged end so that when the sections are locked back into position they give a comfortable grip for sawing or gutting. Finally, the third section of the sheath is a plastic carrier for a good four metre length of black paracord.

The whole assembly hangs on black nylon webbing straps configured for belt or webbing carry, with the knife being retained by a simple leather strap and stud. My only grumble, and it's not much of one, is that a removable thigh strap was not included for those who need to carry the knife slung below the belt, but a simple alternative could be rigged up by running a length of paracord through the eyelet hole at the bottom of the sheath.

Priced at £129, this is not the cheapest survival knife on the market, but its suitability for task and the amount of proper survival options that it offers, as well as it clearly being a robust and practical combat or general purpose hunting and backwoods knife make the price more realistic. This is not some Rambo toy, but a properly thought-out and manufactured tool. Each knife is individually numbered on the blade, plus in the owner manual that comes with it.

For more info and availability check out www.rusmilitary.com or ring FSU Connections Ltd. on UK 01932 770 836

GUN MART / August 2003 ___________________________________________________________________________

From Russia with love ... a survival knife

by Pat Farey

I've seen quite a few so called survival knives in my time, a few that were more of indifferent design and quality, but many that were, frankly, out and out rubbish. So when a plain grey cardboard box turned up, marked simply SURVIVAL KNIFE MODEL "HB-1-01" with the same message on the other side in Russian Cyrillic, I wasn't expecting too much. It therefore came a pleasant surprise to find that I was wrong - and this was a survival knife worthy of the name

I should have known, as the HB-1-01 comes from IZHMASH, a giant Russian conglomerate that makes all sorts of good stuff; from industrial machines, cars and motorcycles, through Kitolov and Krasnopol guided weapons systems, every imaginable version of AK assault rifle, sporting shotguns and, of course, knives ! This particular survival knife comes well appointed to accomplish its task, though let's be honest, it will hardly ever be put to the ultimate challenge of being the sole tool in a battle for survival. Nevertheless, it would be an ideal companion for the trekker, explorer, sports traveller, mountaineer etc., and it would certainly suit the more adventurous hunter, deerstalker or fisherman. It would also serve those that through work (or bad luck) are likely to get thrown into some of the harsher conditions that this world has to offer.

All you ever need..

Starting with the blade. This is a modified sabre-point with a sinuous recurved edge giving a deep belly. The blade has a black epoxy coating and it takes a good edge quite easily. The hollow handle is made of alloy and has a hammer head cross-guard. The tubular grip spiral ridges and crosshatched panels for a sure grip. The end cap is also crosshatched and is threaded to screw into the handle. The cap has a raised lug on the end, drilled to take a short safety lanyard, and the threaded section has a waterproof 'O' ring seal. Inside the hollow handle is a spring plunger at the guard end that pushes out a survival capsule when the grip cap is removed. The plastic cylinder has push-on caps at each end, one covering a deep chamber and the other a shallow chamber. These contain a survival kit including; 5 metres of kapron fishing-line and 3 metres of cotton thread (both on a miniature spool), 3 x No 4 fish- hooks, 1 x No 8 fishhook, 4 x lead split shot sinkers, a sewing needle, a bronzed safety pin, 3 windproof matches and a small striker, and last but not least, a steel awl.

Next we come to the three part scabbard assembly, and this is a great piece of work on its own. The first two parts are hinged together at the base and are released by a spring loaded plunger at the scabbard throat. Steel jaws form the base of the scabbards, turning them into a very effective wire cutter.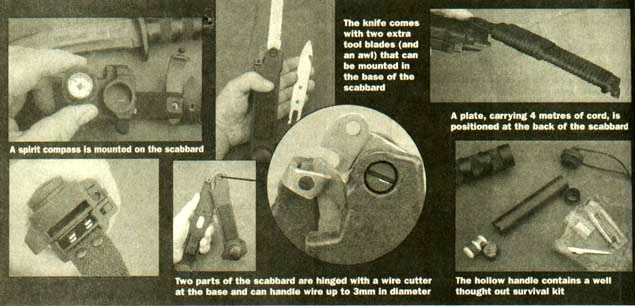 The first section of the scabbard assembly is on an outer plastic sheath that holds the knife. it also features a 2.75" x 1" sharpening stone bonded to its front, and a small circular compartment with a screw lid that contains a removable spirit compass. The 0.75" diameter compass is about 0.25" deep while the compartment that it fits in is around 0.5" deep. so there's room in there for another little accessory - I suggest a small magnifying glass. The second section of the scabbard has two additional tool blades concealed within - a saw with a 4"coarse blade for wood and a 4" fine edge blade for metal and a 4" harpoon head that doubles as a fine duty spear-point knife and a bottle opener. Both these tools (and the steel awl) can be locked into place at the hinged base of the two scabbards, thereby turning the scabbards into a handle. The third part of the scabbard is a swing out flat plastic strip that is wrapped with a 4 metre length of 4 mm paracord - it's amazing that such a length of cord can take up such a small amount of space. All in all this is a well thought out and well put together piece of kit. An ideal general camp knife, and nowhere near as coarse or heavy as some 'survival' knives seen in the mid-1980's to 1990's. What's wrong with it ? Well not much really - if I had to nitpick I would say that the knife's handle cap needs a little lube on the threads and that the little leather safety tab that grips the handle doesn't look in keeping with the rest of the knife...I said I was nitpicking, and both these minor quibbles could be easily sorted.
The Izhmash HB-1-01 is available direct from FSU Connections Ltd, importers of some fantastic Russian hunting and military kit...
Blade
6" black epoxycoated carbon steel 55-56 Rockwell
Handle
Hollow waterproof alloy tube
Overall length
11"
Weight
1lb 6.5oz (whole kit); 8.25oz (knife only)
Main tools
Wire cutter, saws, hammer, harpoon, compass, survival kit
Price
£ 129.00
Each knife also comes with operation instructions booklet and has an Izhmash logo & individual serial number stamped on the blade
_______________________________________________________________________________
© Copyright FSU Connections Ltd 1999-2005