7.62mm AKS-47 assault rifle (straight pull AR-M2F)
Brand new Bulgarian AR-M2F rifles are civilian versions of Kalashnikov AKS-47 assault rifle (AKS - Avtomat Kalashnikova Skladnoy - Folding) with shortened barrel. The original version features black polymer furniture inc handguards and pistol grip. We also offer a 'Soviet' upgrade which includes
AKM laminated HGs and bakelite (or laminated) pistol grip to give it an authentic look of Soviet AKS-47 rifle. In accordance with the UK law requirements, this rifle was manufactured as a straight-pull (single-shot) rifle. Our package includes: one 10-R magazine, cleaning accessories kit and complimantory AK canvas sling. Recommended optional accessories include

POSP

telescopic sights

(AKS-47 comes without a siderail for optics - we can instal one as an option)

,

3-mag

tactical pouchs, spare

magazines

(inc steel 10-r, 20-r, 30-r, 40-r & 75-r drum),

"Night"

mini-surpressor,

AK/GP

recoil pads.

ALL AKS-47 rifles can operate with normal AK magazines

(Saiga magazines will NOT fit !). Original muzzle brake thread is the same as all modern Russian-made brakes: 24x1.5
MAINTENANCE ISSUE:
M2F muzzle brake
components
are NOT chromed and are vulnerable to rust and corrosive ammo exposure. We recommend to apply WD40 inside the brake before shooting and 3-in-1 with PTFE while in storage
Calibre, mm

7.62 x 39

Muzzle velocity (m/s) / Twist rate

650 / 1 in 7in

Effective range, m

350-500

Magazine capacity, rds

10/20/30/40/75

Weight, kg (w/o loaded mag)

3.5

Length overall (with folded butt) / barrel, mm

630 / 320

Muzzle brake

Fixed

Receiver type

Milled

PRICE (factory black polymer HGs and pistol grip + 10-r mag)

£865-00

SOLD OUT >>

PRICE (Russian laminated HGs and pistol grip + 10-r mag)

£899-00

SOLD OUT >>

PRICE (Tactical CBS fixed buttstock inc buffer tube and cheek pad + Molot pistol grip + 10-r mag / detachable muzzle brake)

£1,050-00

SOLD OUT >>

Original AK47 30-r bakelite mag / £26

Original Arsenal 30-r polymer spare mag / £29

AKS / AKMS Picatinny dust cover
AK tactical steel dust cover with 3-rail system including 20mm Picatinny on top and 11mm DoveTail on each side to take flash lights or lasers (CLICK to see installed). Ideal for AKS and AKMS types which have no siderail

| | | |
| --- | --- | --- |
| Price: £89-00 | | SOLD OUT > |

AKS / AKMS cheek pad
This universal cheek pad would fit any type of frame (skeleton) or underfolding buttstocks in order to line up the shooters' eye comfortably when telescopic or red dot sights are used. Highly recommended for use with AKMS underfolders and AK-74 sidefolders. The height is adjustable by 4 cm

| | | |
| --- | --- | --- |
| Price: £69-00 | | |

WHAT OUR CUSTOMERS SAY

Hi Oleg, Just short message following collection of the above yesterday morning from you. Shot for first time and sights on straight out of box. Very happy with it and also fair bit of interest from shooters around me and from own club. Didn't get any pictures this time due to wind and rain but will send in when weather better. Thanks again and hope to do business with you again in the future. Regards Tony / Email 26.03.16

Hi Oleg, Id just like to thank you for your patience yesterday. Kellys very happy with her purhase and has been praticing inserting and removing the magazine so much it will be worn out soon...We will probably be in the market for another two of the rifles within the next 6 months. Probably in .223. Will contact you nearer the time.Thanks Andy / Email 19.04.16 >

Picture as promised, shooting at Bisley yesterday, 300 yrds. Once sighted with red dot was very accurate yet again, and a joy to shoot !!! Regards Tony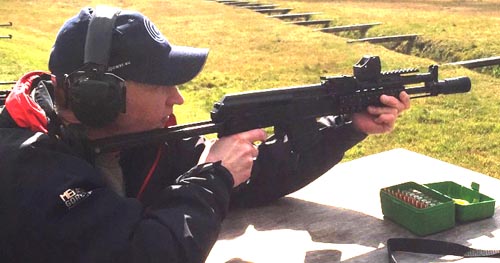 PLS NOTE: THIS PRODUCT REQUIRES FIREARMS LICENSE !

Condition of purchase in the UK (MAIL ORDER): Section 1 FAC. Please post photocopies of front page & Variations page (with .308 / 7.62mm), plus contact details of your nearest RFD. Purchase in person & viewings are strictly by appointment. Conditions of purchase in Europe: please send by post photocopies of your Dealers Firearms License,
End User Certificate
&
EC3
in PDF (
EC3
in Word) Form (we CAN NOT deliver guns to private individuals). US dealers have to supply an approved copy of
ATF.Form.6-Part1
(we CAN NOT deliver guns to private individuals)
. Please note all our rifles are SINGLE-SHOT / NOT semi-automatic and all the shotguns ARE semi-automatic with fixed buttstock & minimum barrel length of 24" (61cm)

© Copyright RusMILITARY 1999-2018
Tel: 01344-750735 E-mail: fsu@sky.com